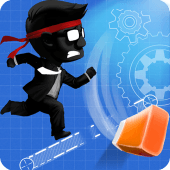 Download Eraser: Deadline Nightmare Mod Apk v1.4 (Free purchase/Unlocked/Full)
0 58.71 MB 4
100% Working
APK Version

1.4

Android OS

2.3 and up

Developer

Hiker Games
Category

APK Size

58.71 MB

Download on Google Play
Free unlocking section, you can switch to Chinese in the right side of the game interface.
#Eraser: Deadline Nightmare has been awarded for the 1st International Mobile Gaming Award SEA in the category Excellence Visual Art & Design.

Eraser is a 2D physics puzzle platformer in which players control an eraser to manipulate the environment to help the protagonist escape a red marker. With slick visuals and engaging music, Eraser offers plenty of addicting yet relaxing physics-based gameplay. Can you help the designer finish his blueprints and escape the deadline nightmare?

1. Solve fast-paced physics puzzles with bizarre obstacles.
2. Enjoy instinctive action sequences.
3. Explore 70+ levels that expand through 6 distinct chapters.
4. Collect stars and unlock new chapters.
5. Experience a simple presentation with adorable characters and animations.